RESEARCH ANY STOCK, EVERY STOCK
NO MORE INVESTING BLINDLY,
WITHOUT RESEARCH.
We analyze millions of data points on ALL 4000 listed stocks
Success rate of over 82% on Buy/Sell/Hold calls
We watch company and stock performance 24x7 for you.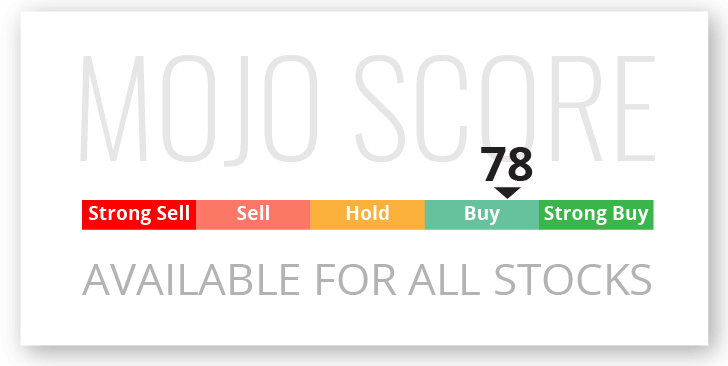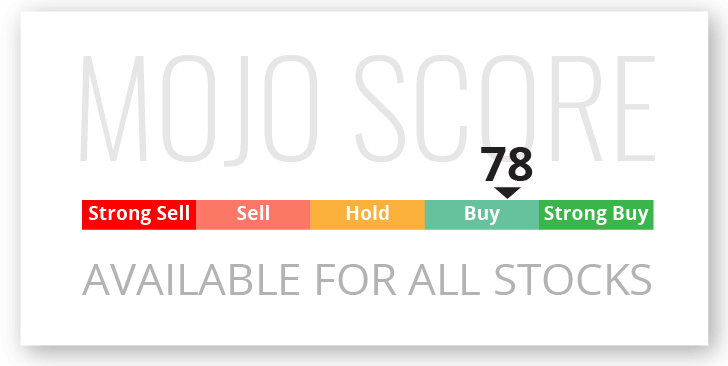 WHAT IS THE MOJO SCORE
OF EVERY STOCK?
Millions of internal and external data points are considered to reach to Mojo Score for every stock. These include- Fundamental & Technical Performance, Peer comparisons, Institutional Intelligence, Balance Sheet, Cash Flow, and P&L analysis and Industry and market cap performance.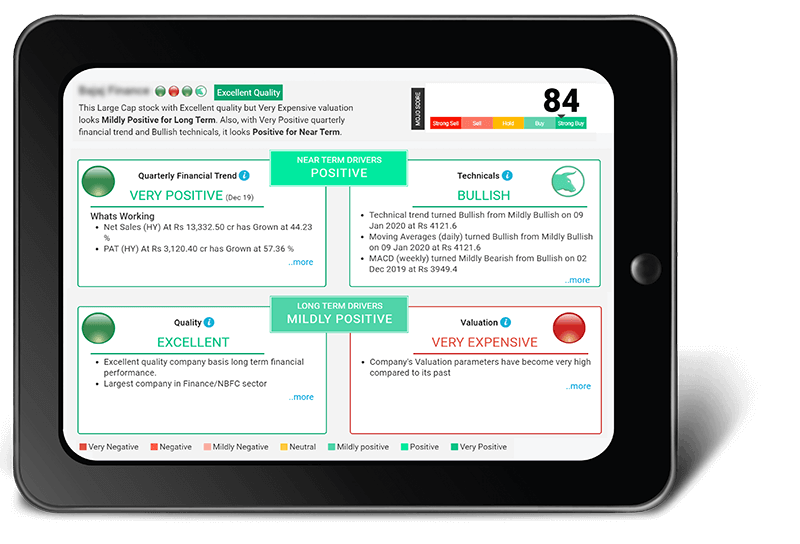 Long Term Factors-
Quality - Consistency of financial performance of the company over the last five years
Valuation - Valuation adjusted with stock's long term performance and industry averages

Short Term Factors-
Current Financial Trend - Latest quarter results as compared to the last five quarters
Technicals - Smart averages of all seven weekly and monthly technical parameters

TOTAL OF ABOVE
SCORE- A score out of 100 and recommendation of Buy/Sell and Hold
HOW TO USE THIS SECTION
Simply input your stock – and check for our score and you can also deep dive into the analysis and research on that stock
Save the stock that interests you - save it in watchlist to track or simply add it to your portfolio if you are holding that stock
Automated alerts – once you have added the stock to your watchlist or portfolio, we will be sending you alerts on all saved stocks
See all our top stocks together – if you need an investing idea and don't know where to start, simply go to our mojo stock section where we have pre-selected our top stocks for you
MOJO PROFESSIONAL SERVICE PACK
Stock Score - For ALL listed stocks
Model Portfolios - Conservative, Moderate and Aggressive
Portfolio Optimization - Whatever current portfolio you have, we advise
Mojo Stocks - Top stocks where you won't go wrong irrespective of which market cycle it is
Screeners - Find top stocks with your filters
Stock of the month - Handpicked investment ideas by our CIO every month
Verdict - REAL time research on ALL stocks
SwitchER - Switch to better stocks